​​Citizen Science, Reduce Roadkill, Environmental Education, Cherish Life
Taiwan Roadkill Observation Network ("TaiRON") is a citizen science project launched by the Endemic Species Research Institute (overseen by the Executive Yuan's Council of Agriculture) in August 2011 in order to understand the current situation with regard to animal deaths caused by domestic transport construction and its ancillary facilities (ditches, retaining walls, street lights, high-voltage wires, etc.), especially casualties from car accidents (referred to as "roadkill"), to reduce the threats to the survival of wild animals such as the Leopard cat( Prionailurus bengalensis 石虎), Pangolin( Manis pentadactyla 穿山甲), Land crab (陸蟹), various avian species (鳥類) and various types of Herpetofauna(兩生爬行類) and at the same time to improve the safety of domestic road users and reduce the occurrence of collision accidents.
The purposes include the following:
Reduce Roadkill: Construct eco-friendly roads to reduce roadkill of wild animals.
Citizen Science: Encourage the public to care about environmental issues and take part in scientific research.
Environmental Education: In the process of participating in citizen science, absorb ecological and environmental knowledge and implement it in daily life.
Cherish Life: All life has its meaning and value. Participants are encouraged to assist in picking up and sending the roadkill specimens for collection and research, so that the lost life can have greater value.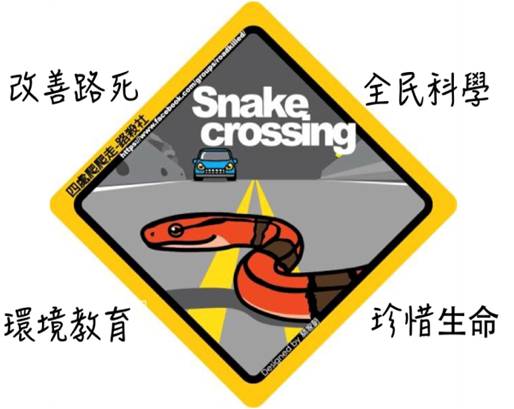 Explanation of Basic Terms

Roadkill
Specifically refers to the casualties from traffic accidents resulting from animals being hit or run over by various land vehicles, including deaths caused by bicycles, motorbikes, cars and various rail transportation vehicles. At present, there is no unified term internationally. The more common English terms are roadkill, road mortality, and wildlife vehicle collisions.
Road Death
Generally refers to all animals that die on roads or on the sides of roads. The cause of death may be roadkill resulting from car accidents, natural disasters, power facilities, artificial structures, poisoning, disease or natural enemy attacks, along with other possibilities.
Glass collisions
Refers to the casualties caused by birds hitting windows, glass and transparent soundproof walls.
Road Ecology
The broad scope of road ecology is not limited to related ecological studies on issues arising from roads, but includes all artificial linear structures such as high-voltage transmission lines, oil pipelines and rows of wind turbines.
Animal Crossing
Refers to underpass culverts, box culverts, tunnels, land bridges, suspension bridges, ropes etc. that are set up for animals to pass through to improve animal safety or reduce animal roadkill accidents. They are usually small cement structures that are simple for passage.
Ecological or wildlife corridor
Refers to an area of relatively complete ecological functions which can provide suitable habitats or passage for living things and connects the living habitats of wild animals and plants separated by human activities or structures. Ecological corridors do not necessarily have physical artificial structures (such as large land bridges).